What is a KE domain name?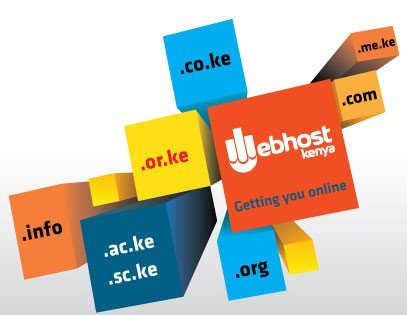 A KE domain name is a unique name that identifies an Internet site. An Internet domain name is a one-of-a-kind web address that you can purchase for your organization through Webhost Kenya.
A KE domain name takes the form, example.co.ke. After registering a domain name, you can use it for various purposes. For instance, you can have a website whose address would be www.example.co.ke. You can also get email addresses at this domain. You choose what email addresses you would like. For instance, it can be info@example.co.ke,me@example.co.ke, sales@example.co.ke and so on.
Why should I register my dot co.ke domain name?
You may have a domain name in another extension for instance dot .com. If you are transacting business in Kenya, it would be advisable to register your dot co.ke company's name or brand name to prevent any other person or organization registering it. This registration prevents another entity masquerading on the web as the genuine article and situations whereby you would have to buy the domain name probably for an exorbitant price.
How soon can I have my co.ke domain name?
Your KE domain name is registered as soon as you pay for it and it is active within 20 minutes. It does not take more than 24 hrs for it to become live.
Do I need a credit card to pay for my domain?
You do not need a credit card to pay for your domain. You can pay by Mpesa, Paypal, credit card, Pesapal, cash or cheque. See the Payment options
What are the benefits of having my own domain name? 
A domain name gives you exclusivity.
Without your domain, you don't have much of choice. Your email and web addresses will be based upon the name of your host or Internet service provider, such as username@ymy-ISP-provider.co.ke and http://www.my-ISP-provider.co.ke/username. By having your domain name is like owning your virtual real estate. Such exclusivity can help build name recognition for you and your company.
A domain name contributes to promoting your organization and brand name.
You can advertise your website instead of someone else's when you're sending emails as your domain name will be in the email address, for example, admin@mycomany.co.ke is helping to promote mycompany.co.ke while mycompany@my-ISP-provider.co.ke is contributing to promote and brand my-ISP-provider.co.ke rather than your own web presence.
It gives your business or organisation credibility
As the saying goes, "You never get a second chance to make a first impression," and in business, first impressions count. Having your domain name projects a professional image of you and your company, typically associated with large enterprises. In addition it tends to say to others that you're a serious business person, operating an established business, in a professional manner.
In addition, a company with a free email address such as mycompany2003@myfree-email-provider.co.ke for business purposes projects an image of not being serious and makes the recipient of email doubtful as to the authenticity of the company.
A domain gives your website and emails mobility
If you set up a website without owning your domain name, you end up using the domain name of your web host by default, http://www.my-ISP-provider.co.ke/username. Such a web address is not mobile; you can't take it with you if you ever switch to another web host.
Furthermore, ownership of your domain name gives you the option of moving your website to another host without losing your web address.
What kinds of domain names are there?
There are country specific names such as
Company.co.ke – Kenya
Company.co.uk– United Kingdom
Company.co.ug– Uganda
Company.co.jp – Japan
General domain names are usually found with the suffix dot.com, dot.net, and dot.org.
Company.com – Commercial Entity
Company.net – Network Entitty
Company.org – Non-Profit organisation
These domain names are general and do not communicate what country or region the organization is based.
In Kenya, we have the following KE domain names available for registration.
• domain-name.co.ke – for Kenyan commercial companies
• domain-name.ac.ke – for Kenyan academic institutions
• domain-name.me.ke – for personal use or a blog
• domain-name.sc.ke – for primary and secondary schools
• domain-name.or.ke – for nonprofit making organizations in Kenya
• domain-name.ne.ke – for network entities in Kenya
• domain-name.go.ke – for Government of Kenya entities
Who can register a domain name?
Any individual, company, organisation or entity can register a domain name.
What domain name can I register through Webhost Kenya?
You can register domains with any of the following common extensions in addition to over the 300 new generic tlds now available
| | | | | | |
| --- | --- | --- | --- | --- | --- |
| co.ke | or.ke | ac.ke | ne.ke | go.ke | .me.ke |
| ..sc.ke | .net | .org | .biz | .info | .name |
DOMAIN NAMES/DOMAIN REGISTRATION
What is the domain registration?
This is the process whereby a domain name is registered, which identifies one or more IP addresses with a name that is easier to remember and use in URLs to identify particular Web pages. The person or business that registers a domain name is a domain name registrant.
What do you mean by a domain name?
A domain name is the address where Internet users can access your website. It is an address on the Internet. If your domain name is myorg.co.ke the DNS will see that as a set of numbers, for example 123.456.789.10. This set of numbers is called the Internet Protocol address or IP address. Domain names are used in URLs to identify particular Web pages. For example, in the URL https://www.webhostkenya.co.ke/, the domain name is webhostkenya.co.ke
Is it necessary to register a domain name?
Domain name registration is necessary for a website, an email or another web service. A domain name registration gives you personality and recognized identity.
How do I buy a domain name forever?
Technically speaking there is no way to buy a domain name forever. You can buy one for up to 10 years, and information on the expiration date can be provided to you by the registrar you registered the domain name with for renewal. There are a few exceptions to these. The big exception is domains ending in .au ( .com.au, .net.au, .org.au, etc.) and .co domains. These top level domains can only be renewed for a maximum of 5 years at a time.
Do domain names need private registration?
Usually, when you register a domain name regardless of it being a business or personal site, you're asked to provide personal information. You can either publicly register a domain, which is what most people do, or you can privately register it.
What are the types of domain?
What are the different types of domain names?
TLD – Top Level Domains.
ccTLD – country code Top Level Domains.
gTLD – generic Top Level Domains.
IDN ccTLD – internationalised country code top-level domains.
Second level.
Third level.
What is the difference between a website and a domain?
A domain is a website's name, how to find the website is the URL, and a website is what people see and interact with when they get there. Buying a domain means that you have purchased a name for your site but you also need to build the site
How do I register a domain?
Here are the steps for registering a domain:
Choose your registrar or web hosting service. Remember to check their hosting policies and pricing
Search for a domain name
Fill out the forms
Pay for your domain
Link domain and website
Park your domain if you don't have a website
What is a valid domain?
A domain name can be composed of three to sixty-three characters excluding the address specifier (www) and the suffix (.co.ke). The character limit depends on the required TLD extension. Only alphanumeric characters and hyphens are allowed. The name cannot start or end in a hyphen.
Does a domain name matter?
Like all other aspects of SEO and online marketing, domain names are one of the building blocks to a good website.
What are the tips for choosing the perfect domain name?
Here are the tips for choosing the perfect domain name:
Make it easy to type.
Keep it short.
Use keywords.
Target your area.
Avoid numbers and hyphens.
Be memorable.
Research it.
Use an appropriate domain name extension.
Protect and build your brand.
Act fast.
Here are the steps for registering a domain:
Choose your registrar or web hosting service. Remember to check their hosting policies and pricing
Search for a domain name
Fill out the forms
Pay for your domain
Link domain and website
Park your domain if you don't have a website
Why do we need a domain?
Here are reasons for a domain.
Gives you and your business a more professional look.
Protects copyrights and trademarks for a business.
Build creditability.
Increases brand awareness and search engine positioning.
Purpose.
Having a text-based label compared to the numerical addresses on domain names, serves to identify Internet resources.
A domain name may represent entire collections of such resources or individual instances.
Should I use a number in my domain name?
No. It's difficult to verbally communicate a domain name that has a space or a number. Stick to A-Z and leave other characters alone, no matter how tempting.
What benefits does choosing the right domain provide?
The Five Benefits of Getting the Right Domain Name
Easy-to-Remember Domain Names. A good domain name will be easy to remember, making your website easy to find.
Improved Search Engine Rankings.
Better Branding and Fewer Errors.
Establish a Business Identity.
Establish a Type of Organization.
How does a domain name work?
A domain name is a system of matching names with numbers. A DNS (Domain Name System) concept is like a phone book for the internet. By just connecting through a domain name server, which manages a massive database that maps domain names to IP addresses.
Why is DNS security important?
The DNS serves importance by linking the domain name to the IP. This weakness, however, can be exploited by Internet criminals who can create false DNS records. These fake records can trick users into visiting fake websites, downloading malicious software, or worse.
Why do I have to pay for a domain?
Domain registrars need servers in order to point your visitors to them, the service of routing the domain name to an actual server is what you pay for. Without that service a domain name would lead nowhere.
How do I permanently buy a domain name?
Here is how to permanently buy a domain:
Go to a registration site. Open a web browser and navigate to a site that registers domain names.
Choose a domain name
Check to see if your domain name is available
Select the domain you want to buy
Choose how many years you want to pay for
Select additional services
Pay for your domain name and services
What is DDD in Java?
Domain Driven Design (DDD) is about mapping business domain concepts into software artefacts. These writings discuss the main elements of DDD such as Entity, Value Object, Service etc. or they talk about concepts like Ubiquitous Language, Bounded Context and Anti-Corruption Layer.
WEBSITES
How do I get a website?
Here is how to get a website:
Register your domain name
Find a web hosting company
Prepare your content
Build your website
How Do I Make a Business Website in 5 Steps?
Here is how to make a business website in 5 steps:
Register Your Website's Domain Name. A domain name is the name and address of your website, such as www.YourBusiness.com.
Choose Your Hosting Provider & Platform.
Create Your Website Content.
Design a Logo.
Design Your Website.
How Do I Build a Website Using a Website Builder?
Here is how to build a website using a website builder:
Choose your website builder.
Sign up for the right plan.
Choose a domain name.
Pick your template.
Customize your template.
Preview and test your website.
Why does your business need a website?
A website can generate business, promote goodwill among customers and prospects, and help as a marketing tool.
Do I really need a website?
Do You Really Need a Website? The answer is yes. There aren't many businesses that can survive without a Web presence and there's no reason not to have a website. Your company's website can be a highly effective cost-efficient marketing tool.
Why should I make a website?
A website helps to connect with the world. Whether you choose to create a website to share your passion for; writing, art, music, inform people of your business, sell products, or any other reason- it can help you do this.
What do I need to start a website?
Here is what you need to start a business:
Domain Name
Business Email Address
Website Building Software
Website Hosting
Website Template Design
Logo Design
High-Quality Images for Website
Image Editors
Google Analytics
How can I create a website free of cost?
Here is how to create a website free of cost:
Set Up and Customize Your Website
Sign up with the system of your choice
Select a template
Customize it
Design your website
Select the plan, which comes up to your web building needs most of all
Choose Domain Name
Publish Your Ready Made Website
Do small businesses need a website?
Yes. As a result of this, consumers are generally turned off by companies that don't have a web presence. A website puts a business out there and makes itself known.
What are the Advantages of Having a Website for your Business?
The advantages of having a website are:
Less expensive
Helps with advertising and marketing
Easy accessibility
Increase sales'
Gives the opportunity to prove your credibility and reliability
Customer satisfaction
Access to info
What are the benefits of a good website?
Here are the top benefits of having a Website:
Cost-Effective
Wider Demographic Reach
Business Credibility
Around-The-Clock Availability
Consumer Convenience
Increased Sales
Fosters Customer Rapport
What does a website offer?
Here is what a website offers:
The perfect business card for your project or organization
A detailed and permanent advertisement
A site available 24/7 all-year-round
Your own competitive edge
Better communications
Increased credibility
Can I build a website for free?
Yes, easily by using WordPress. Wix can also help you make your own website for free; it is fast and easy and the end result is a professional website.
How can I open a website in Kenya?
How to Create a Small Business Website in Kenya?
Choose and register a domain name (www.companyname.com)
Choose the platform to setup your website.
Outline and create content to be posted on the website.
Finalize your marketing and branding collateral. Start with the Logo.
Go live.
How much does it cost to create a website in Kenya?
Most web designers in Kenya specialize in WordPress sites, but the cost of having a standard website built will range from KSh15,000 to 60,000.
Should you host your own website?
You'll need a high-speed internet connection that's redundant. Consumer grade internet is not sufficient for you to host your own website. Every server hosting a website should be connected to the internet through redundant connections to enterprise grade networks.
How many pages can a website contain?
This depends on your business. Companies that have more than 50 employees and have 1000 web pages see 9.5 times more traffic than companies with under 51 pages. You can share more content with more website pages you have.
Do I need a server for my website?
In order to host your page on a web server you need to pay a hosting charge. In order to display your website on the internet, you need a web hosting provider. You could set up your own hosting server at home, but it would take a huge amount of knowledge and require a lot of time to set up.
What is the importance of website?
Provides a dramatic boost in sales for a website with an online shop.
Helps you establish credibility as a business.
WEB DESIGN
What do Web designers use to build websites?
Photoshop is the most widely used program for creating wireframes and designing websites. Illustrator is used by professional designers to create graphics / illustrations for web projects.
Why is website design so important?
Web design is important because it impacts how your audience perceives your brand and get its feel. To keep leads on your design, you need a good web designer. Seek professional service from https://www.webhostkenya.co.ke/
What comes under web designing?
Web designers use various design programs such as Adobe Photoshop to create the layout and other visual elements of the website. Web developers use HTML, CSS, JavaScript, PHP and other programming languages to bring to life the design files.
What is the impact of basic Web design?
Apart from the important aesthetic point of view, web design encompasses much more. From SEO and traffic to branding and conversion rates, your site's web design affects your entire internet presence.
What do Web designers do?
A web designer is responsible for creating attractive and fully-functional websites. They use their creative and software engineering/programming skills to design, build, and improve websites.
They are also responsible for;
Conceptualizing creative ideas with clients.
Testing and improving the design of the website.
Establishing design guidelines, standards, and best practices.
Maintaining the appearance of websites by enforcing content standards.
Designing visual imagery for websites and ensuring that they are in line with branding for clients.
Working with different content management systems.
Communicating design ideas using user flows, process flows, site maps and wireframes.
Incorporating functionalities and features into websites.
Designing sample pages including colours and fonts.
Preparing design plans and presenting the website structure.
What are the duties of a web designer?
Web Designer Responsibilities:
Conceptualizing creative ideas with clients.
Testing and improving the design of the website.
Establishing design guidelines, standards, and best practices.
Maintaining the appearance of websites by enforcing content standards.
What are the elements of website design?
Here are seven key elements of modern web design:
A Strong, but Limited, Colour Palette.
Plenty of White Space.
Relevant Calls-to-Action.
Clean Backend Coding.
Design for the User First.
SEO-Boosting Elements.
Speed Optimization.
What is a good web design?
Simple, clean and fresh design
Innovative but not distracting
Aesthetically appealing- to the right users
Respectful, Honest, and Engaging
Designed for Usability and Functionality
Cohesive in Design, Down to the Details
Easily Understood
Design Elements Inspire Users to go Deep
Visual Elements Placed to Focus User Attention
Emphasis on What Matters Most
How long does it take to design a website?
How long to build a website?
A typical website will take 14 weeks at a minimum from start to launch. This includes 3 weeks' discovery, 6 weeks' design, 3 weeks' initial development, and 2 weeks of modifications. It could take much longer if you wait until the end to start writing content.
What is the most important thing in website design?
The important thing in website design is;
Design
Usability
SEO
content and integration.
What are 10 principles of effective web design?
A clear purpose fulfilling a specific need
Clear communication
Typefaces –ideal fonts
A well thought out colour palette
Using the right images
Effective navigation
Grid-based layouts
"F" Pattern design
Quick load time
Mobile friendly
Why is website development important?
Web development helps to;
Increase product knowledge
Maintain communication between you and potential clients
Sell your products or services
Generate leads for the business
Increase the popularity of your business/company and much more.
How do I register a domain name?
To register your ke domain name us the search box below