What is a KE domain name?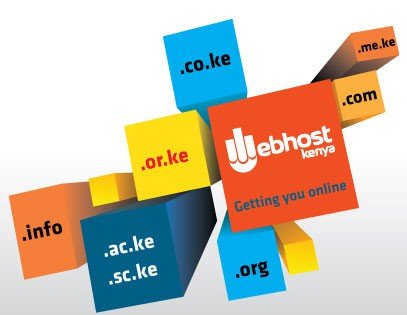 A KE domain name is a unique name that identifies an Internet site. An Internet domain name is a one-of-a-kind web address that you can purchase for your organization through Webhost Kenya.
A KE domain name takes the form, example.co.ke. After registering a domain name, you can use it for various purposes. For instance, you can have a website whose address would be www.example.co.ke. You can also get email addresses at this domain. You choose what email addresses you would like. For instance, it can be info@example.co.ke,me@example.co.ke, sales@example.co.ke and so on.
Why should I register my dot co.ke domain name?
You may have a domain name in another extension for instance dot .com. If you are transacting business in Kenya, it would be advisable to register your dot co.ke company's name or brand name to prevent any other person or organization registering it. This registration prevents another entity masquerading on the web as the genuine article and situations whereby you would have to buy the domain name probably for an exorbitant price.
How soon can I have my co.ke domain name?
Your KE domain name is registered as soon as you pay for it and it is active within 20 minutes. It does not take more than 24 hrs for it to become live.
Do I need a credit card to pay for my domain?
You do not need a credit card to pay for your domain. You can pay by Mpesa, Paypal, credit card, Pesapal, cash or cheque. See the Payment options
What are the benefits of having my own domain name? 
A domain name gives you exclusivity.
Without your domain, you don't have much of choice. Your email and web addresses will be based upon the name of your host or Internet service provider, such as username@ymy-ISP-provider.co.ke and http://www.my-ISP-provider.co.ke/username. By having your domain name is like owning your virtual real estate. Such exclusivity can help build name recognition for you and your company.
A domain name contributes to promoting your organization and brand name.
You can advertise your website instead of someone else's when you're sending emails as your domain name will be in the email address, for example, admin@mycomany.co.ke is helping to promote mycompany.co.ke while mycompany@my-ISP-provider.co.ke is contributing to promote and brand my-ISP-provider.co.ke rather than your own web presence.
It gives your business or organisation credibility
As the saying goes, "You never get a second chance to make a first impression," and in business, first impressions count. Having your domain name projects a professional image of you and your company, typically associated with large enterprises. In addition it tends to say to others that you're a serious business person, operating an established business, in a professional manner.
In addition, a company with a free email address such as mycompany2003@myfree-email-provider.co.ke for business purposes projects an image of not being serious and makes the recipient of email doubtful as to the authenticity of the company.
A domain gives your website and emails mobility
If you set up a website without owning your domain name, you end up using the domain name of your web host by default, http://www.my-ISP-provider.co.ke/username. Such a web address is not mobile; you can't take it with you if you ever switch to another web host.
Furthermore, ownership of your domain name gives you the option of moving your website to another host without losing your web address.
What kinds of domain names are there?
There are country specific names such as
Company.co.ke – Kenya
Company.co.uk– United Kingdom
Company.co.ug– Uganda
Company.co.jp – Japan
General domain names are usually found with the suffix dot.com, dot.net, and dot.org.
Company.com – Commercial Entity
Company.net – Network Entitty
Company.org – Non-Profit organisation
These domain names are general and do not communicate what country or region the organization is based.
In Kenya, we have the following KE domain names available for registration.
• domain-name.co.ke – for Kenyan commercial companies
• domain-name.ac.ke – for Kenyan academic institutions
• domain-name.me.ke – for personal use or a blog
• domain-name.sc.ke – for primary and secondary schools
• domain-name.or.ke – for nonprofit making organizations in Kenya
• domain-name.ne.ke – for network entities in Kenya
• domain-name.go.ke – for Government of Kenya entities
Who can register a domain name?
Any individual, company, organisation or entity can register a domain name.
What domain name can I register through Webhost Kenya?
You can register domains with any of the following common extensions in addition to over the 300 new generic tlds now available
| | | | | | |
| --- | --- | --- | --- | --- | --- |
| co.ke | or.ke | ac.ke | ne.ke | go.ke | .me.ke |
| ..sc.ke | .net | .org | .biz | .info | .name |
How do I register a domain name?
To register your ke domain name us the search box below